KEW PLUS
The benchmark for excellent lying comfort for more than 15 years !
This mattress has been designed to increase comfort in the sleeping area for your cattle.
The Kew Plus has been specially designed to have the comfort of sand but without the inconvenience and huge maintenance costs. The Kew Plus is the best mattress for comfort in a free stall!
---
Application
Sleeping area in a free stall
Dimensions
Width: for cubicle from 47-1/2'' to 53-1/2'' *c/c
Length: 72''' Length
Thickness: 2-1/2''' thick
Mattress weight: 167 lbs
*  center-to-center measurement
Comfort and safety
The three functional layers ensure optimal comfort.
The softness of the mattress for the cow during the rest period and the stable contours contribute to the correct positioning of the cow and increase adherence.
Pleasant and skin-friendly elastic surface.
Bevelled cut at the back *Mild on joints, no tripping*
---
Hygiene and easy maintenance
The integrated slope at the back promotes drying
Sealing lips completely enveloping the foam and underlay to prevent infiltration.
High pressure washable.
Simple installation
The upper belt is moulded on the sides to secure the T-Bar.
The 3-layer mattress is fixed between them by the sides only thanks to the T-Bar specially designed for this product.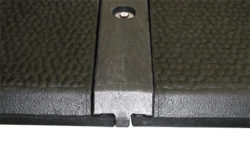 ---
Reliability and economy
Ideal flexibility over time for each load supported by the 3 layers.
The solution to reduce maintenance costs, cleaning time and straw consumption.
Unique manufacture from high quality material.
5-year guarantee for free housing
The world leader
Since 1947, KRAIBURG has been established as a competent specialist in the rubber sector.

---